What to expect:
With Patriot Stain and Seal® your fence staining job begins with ensuring your fence gets stained and nothing else.  We make sure our Oklahoma City metro area homeowners and their neighbors' homes are totally protected from overspray. When choosing us, you can be assured that your swimming pool, pool equipment, patio furniture, and other outdoor amenities will be covered with the necessary tarps. In addition, landscaping in the path of overspray will be covered with cloth to prevent damage.
Fence Staining Process
Condition of the Fence and Stain Selection
Whether your fence is brand new or several years old we can cover all your fence staining, deck staining, and pergola staining needs. If your fence is brand new, we recommend going with a transparent stain to highlight the beauty of the wood grain. Wood Defender "Clear Cedar" is by far our most popular transparent stain in Oklahoma.
If your fence has been installed for several years and has started to turn gray and weather we use a two step process to get that fence cleaned restored and looking new again. By staining your aging fence and stopping the decay process you can save yourself thousands of dollars down the road.  Here is how the restoration process works.
First our professional stain applicators will come in and treat the wood with a special cleaning solution to kill the algae, mold, and bacteria growing on the fence or deck. This stops the decay process and returns the wood to a near new appearance.
One to two days later we come back and then apply the stain color of your choice. On older fences, we often recommend using a semi-transparent stain color for better UV protection and to mask any blemishes the aging process has taken. If your fence is less than two years old, we can often use a transparent stain after the cleaning process. Consult with your sales person to determine which is best for your project.
Method of Application:
When staining fences in Oklahoma we use high quality commercial spray systems. Our spray systems are specially designed low volume low pressure systems which allow us to meet the application rates of our stain. It allows the proper amount of product to be applied which in turn allows the proper rate of saturation. Most of our competitors use Airless Paint Sprayers which cause tremendous overspray. Airless Sprayers are High Volume High Pressure systems and because of this it atomizes the stain causing a cloud of stain above and all around your home and your neighbors. Our specially designed commercial systems minimize the overspray making sure we get the stain on your fence, and not everything else.
Fence Cleaning: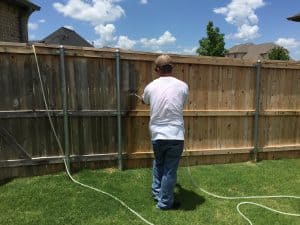 If your fence is older and has begun to wether it must be properly prepared prior to staining to kill the mold and mildew spores present and most importantly stop the decay process. Any gray in the wood not cleaned prior to staining will be visible after the staining process has been completed so it is imperative that this is done properly. Our professional grade wood defender wood stains are powerful enough to keep the mildew and mold from returning but do not clean the wood during the fence staining process.
Unlike many companies, at Patriot Stain and Seal we do not use any power washing techniques since this actually destroys the wood fiber and pumps more moisture into the lumber which is the source of the mold and mildew in the first place. Power washing can also be very damaging to the wood itself causing splintering and raised grains. Instead, we use a special cleaning solution to bleach and clean the surface of the wood as needed. This method ensures that the bacteria, algae, mold, and mildew is killed and the decay process is stopped in its tracks. We are after all trying to protect your fence not cause further damage. Be cautious of any company wanting to pressure wash your fence.
Patriot Stain and Seal, Oklahoma's Fence Staining Experts specializes in staining and sealing wood that is exposed to Mother Nature. While the majority of our business is staining and sealing wood privacy fences and decks we also protect and restore pergolas, arbors, gazebos, play sets, storage buildings, porch swings, benches,wooden support columns, etc.